Nation (album)
From The Giant: The Definitive Obey Giant Site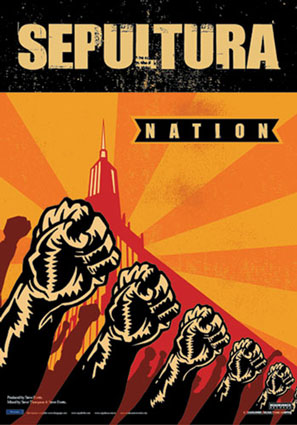 ---
From Wikipedia:

Nation was the eighth LP by Brazilian thrash metal band Sepultura. It was released in 2001 through Roadrunner Records. It was their second album with singer/guitarist Derrick Green, and their first where he had a hand in writing and recording. Nation features guest appearances from such notable artists as Hatebreed singer Jamey Jasta, Dead Kennedys singer Jello Biafra, and Apocalyptica. The album saw generally better reviews then Against, but sold less copies than it. Sepultura blamed Roadrunner Records for not promoting the album enough, and would leave for SPV Records in 2002.
Track listing
"Sepulnation" – 4:20
"Revolt" – 0:56
"Border Wars" – 5:10
"One Man Army" – 5:27
"Vox Populi" – 3:41
"Ways of Faith" – 4:53
"Uma Cura" – 3:14
"Who Must Die?" – 2:58
"Saga" – 4:37
"Tribe to a Nation" – 2:48
"Politricks" – 4:14
"Human Cause" – 0:57
"Reject" – 2:59
"Water" – 2:44
"Valtio" – (instrumental) (by Apocalyptica) 3:20
"Bela Lugosi's Dead" (Bauhaus) (bonus track on digipak release)
"Annihilation" (Crucifix) (bonus track on digipak release)
"Rise Above" (with João Gordo) (Black Flag) (bonus track on digipak release)
"Roots Bloody Roots" (Live) (bonus track on digipak release)
Credits
Igor Cavalera - Drums
Andreas Kisser - Guitar / Lead Guitar
Derrick Green - Vocals / Guitar
Paulo Jr. - Bass guitar
Steve Evetts - Record producer
Steve Thompson & John Goodmanson - Mixing
Shepard Fairey - Design
---
© Copyright
This page contains an image or images of drawings, paintings, photographs, prints, or other two-dimensional works of art, for which the copyright is presumably owned by either the artist who produced the image, the person who commissioned the work, or the heirs thereof. It is believed that the use of low-resolution images of works of art for critical commentary on the work in question, the artistic genre or technique of the work of art, or the school to which the artist belongs on the English-language website thegiant.org, hosted on servers in the United States, qualifies as fair use under United States copyright law.