Dunny
From The Giant: The Definitive Obey Giant Site
The dunny action figure - which is made of soft, smooth vinyl - was conceived and designed by Kidrobot toy designer Tristan Eaton and owner/President Paul Budnitz to be a "toy with attitude." The original idea was a toy that could be customized in a broad variety of styles by diverse artists working in different mediums.
The Dunny Show
In 2004, 50 artists (including Shepard Fairey) were given a 20in dunny figure to make into a fine art piece for the art exhibit The Dunny Show.
LA Dunny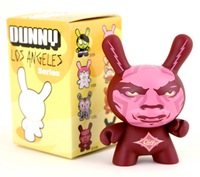 In 2005 Kidrobot released a line of miniature dunny toys called the LA Dunny.
Each dunny was designed by a different artist.
Only 3% of these dunnys were ones designed by Shepard Fairey.

ObeyGiant.com sold signed versions (only the boxes were signed). Originally, 100 dunnys were promised to Obey, but due to a misunderstanding, they only received 25. Because of this, the dunnys were not shipped until months after they were ordered.
Signed edition included apology letter, stickers, magnet, and miniature Obey Giant poster.