Walk the Line Info
From The Giant: The Definitive Obey Giant Site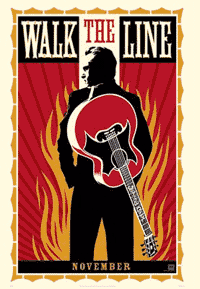 Shepard designed the movie poster for this 2005 hit movie.
In 2005, 50 signed posters were sold at ObeyGiant.com for $40. The 24X36 posters sold-out in hours, and soon sold on eBay for over $200 each. In 2006 an unknown amount of smaller (12X18) signed Walk the Line prints were sold off the site for $20. These prints sold-out faster than their larger counterparts.
In 2005, Shepard did an original piece on wood, where the only difference in the image was the text "Walk the Line" was changed to "Ring of Fire." Shepard has commented saying that he is unable to produce a screen of it because he was commissioned for the poster.
From Supply and Demand, pg. 296:
To memorialize Johnny Cash, I did a stencil of him for an art show, after which I was asked to create the poster and some marketing materials for Walk the Line, the Johnny Cash life story. When I made the illustrations, I used a hunt of Joaquin Phoenix, who portrays Johnny Cash in the movie, but mostly based them on the look of Johnny Cash, in order to create something that would appeal to both Johnny Cash purists who don't care about Joaquin Phoenix and fans of the movie.