The Godfather Print Set
From The Giant: The Definitive Obey Giant Site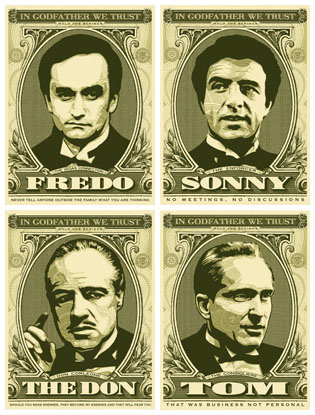 Year: 2006
Run Size: 500
Size: 18x24
Paper: unknown
Print Type: Screen Print
---
This set was originally available for $110.
50 were available directly from ObeyGiant.com (numbers 51-100), which sold out in less than a day.
More sets were released the night of August 28th, 2006. They were only sold as sets for the lower price of $100. It is unknown how many were made available at this time.
From ObeyGiant.com:
IN GODFATHER WE TRUST
We are making an offer you can't refuse. Check these new prints inspired by the infamous Godfather Trilogy featuring The Don, Sonny, Tom, and Fredo. Sorry guys, Michael refused our sit down due to some business conflicts but the rest of the Corleone Family is present. We only have a very limited number of these prints so take care of business before it takes care of you! All prints are signed by Shepard Fairey.
---