The Dunny Show
From The Giant: The Definitive Obey Giant Site
The Dunny Show was an art exhibit that took place in 2004. 50 artists were given a 20in dunny to make into a fine art piece.

May 17 through July 17 2004 at the:
Visionaire Gallery
11 Mercer Street (between Grand & Canal), SoHo, NYC: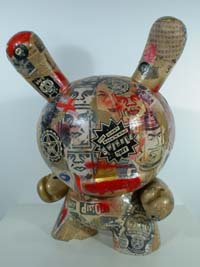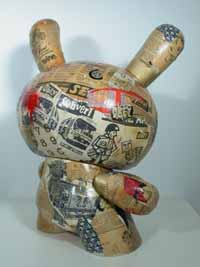 Artists
Alexis Rockman
Alejandro Cardenas
Anne Doran
Arnell Group
Brothersworker
Laurene Boym
Cube Works Japan
David Horvath
DEPH
Derek Hess
Diane Von Furstenberg
Doze Green
Ewok
Fafi & Tilt
Filth
Frank Kozik
Gary Baseman
Glenn Barr
Greg Foley for Visionaire
Haze
Heatherette
HunterGatherer
Jason Siu
J.D. (Yoyamart)
Jessica Stockholder
Jonathan Alger, Chermayeff & Geismar
Kenzo Minami
NYC Lase
The London Police
Maharishi UK
Mark Brower
Mark James
Mist
Nathan Jurevicius
Pete Fowler
Quik
Scott Acid Chester
Seen
Shepard Fairey
Ranjit Lalvani
Rob O'Neill of PDI/Dreamworks
Sket
SSUR
Steuben Glass
The Designers Republic
Tim Biskup
Tom Thewes (Eviltom)
Tristan Eaton
Usman Saeed
Don Hearn for WLVZ Menswear
Press Release
From Kidrobot.com:
NEW YORK CITY, March 29, 2004 – Kidrobot, a leading designer and retailer of limited-edition vinyl action figures, today announced that it will feature the work of more than 50 important artists and designers with backgrounds in fine art, graffiti, industrial design, and illustration, in a unique exhibition of customized Dunny toys that will be held at the Visionaire Gallery from May 17 – July 17, 2004.
Dunny, which is a 20-inch tall action figure made of soft, smooth vinyl, was conceived and designed by Kidrobot toy designer Tristan Eaton and owner/President Paul Budnitz to be a "toy with attitude" that could be customized in a broad variety of styles by diverse artists working in different mediums.
Among the artists and designers who will personalize a Dunny for the exhibition are world-famous graffiti artists Doze Green, Fafi, and Seen; renowned toy designers Jason Siu and Pete Fowler; illustrators including Disney's Teacher's Pet creator Gary Baseman; graphic artists including HunterGatherer; fashion designers Diane von Furstenberg and Kenzo Minami; and a number of fine artists, including Alexis Rockman. Design studio participants include artists from PDI/Dreamworks Animation Studios and Steuben Crystal.
Paul Budnitz, the owner and President of Kidrobot, said, "Dunny's curved body and large, blank features offer the artist who paints him a unique canvas on which to fashion a distinct personality. We are thrilled that the opportunity to participate in The Dunny Show has generated such an enthusiastic response from so many talented artists and designers and we look forward to displaying their work to the public in the intimate setting of the Visionaire Gallery."
Cecilia Dean, one of the founders of Visionaire Publishing and the Visionaire Gallery, said, "For us, it is exciting to enter into the world of toys and to feature new artists in the gallery. Kidrobot is our equivalent in the toy industry and this marks the beginning of an on-going collaboration between Visionaire and Kidrobot."
All of the Dunny toys created for this exhibition will be available for purchase at the Visionaire Gallery. A portion of the proceeds will be donated to the Hetrick-Martin Institute to help fund a variety of educational and after-school programs.
About Kidrobot Kidrobot is the world's premiere creator and retailer of limited edition art toys. The toys sold at Kidrobot fuse urban street trends with creative design and fine art to produce limited edition, collectible pieces of art. Many Kidrobot toys are designed by world-renowned artists with backgrounds in graffiti art, fine art, industrial design, graphic design, illustration and music.
Kidrobot operates two store-galleries, one at 126 Prince Street in SoHo, New York City, and a second at 1512 Haight Street in San Francisco. Kidrobot is also online at http://www.kidrobot.com.
About Visionaire and the Visionaire Gallery Visionaire is a multi-format album of fashion and art produced in exclusive numbered limited editions. Since its inception in the Spring of 1991, Visionaire has offered a forum for works by both famous and emerging artists from around the world as well as personalities, fashion designers, art directors, and image-makers. Visionaire features a different theme and format with each issue. Artists work in collaboration with Visionaire to produce their personal interpretations on a theme.
The Visionaire Gallery is located at 11 Mercer Street in SoHo, New York City.
About the Hetrick-Martin Institute The Hetrick-Martin Institute (HMI), home of The Harvey Milk High School, provides vital services and support to lesbian, gay, bisexual, transgender, and questioning young people and their families. Since its founding 25 years ago, HMI has grown from a small grass-roots advocacy organization run by volunteers to a professional Institute that provides thousands of young people with a broad range of vital services. HMI's youth members, ranging in age from 12 to 21, come from 172 zip codes throughout the five boroughs of New York City and the surrounding metropolitan area. To find out more about HMI and The Harvey Milk High School, visit www.hmi.org.