Stoked: The Rise and Fall of Gator
From The Giant: The Definitive Obey Giant Site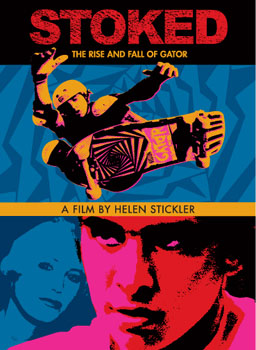 Stoked: The Rise and Fall of Gator (2002) is a documentary film about Mark Rogowski, a famous skateboarder turned murderer. Rogowski went by the name Gator and had, for the time, one of the most popular signature skateboards, and perhaps the most coverage in skateboarding magazines and videos.
Directed By Helen Stickler, director of Obey Giant has a Posse a short documentary from 1997.
Shepard was commissioned to do the movie poster. The image was later released in 2003 as the print Stoked.
From Supply and Demand, pg. 323:
Stoked: The Rise and Fall of Gator was a film by Helen Stickler about Mark "Gator" Rogowski, the pro skateboarder who was convicted of killing his ex-girlfriend's friend. I created the art for the film, but I also helped inspire Helen to make the film. When she was making her documentary about me in 1995, I had a sticker that took the old Gator graphic, with the type changed to "Giant" and Andre's face added to the psychedelic swirl in the background. Helen asked what the deal was with that, and I told her the story of Gator. She was fascinated by the story, enough so to research it and ultimately make this movie.
External links