Sea No Evil
From The Giant: The Definitive Obey Giant Site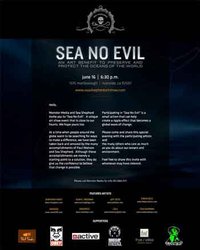 June 16, 2007
From Obey Giant:
An art benefit to preserve and protect the oceans of the world.
Hello, Monster Media and Sea Shepard invite you to "Sea No Evil". A unique art show event that is close to our hearts. We hope yours too.
At a time when people around the globe seem to be search for ways to make a difference, we have been taken back and amazed by the many accomplishments of Paul Watson and Sea Shepard. Although these accomplishments are merely a starting point to a solution, they do give us the confidence to believe that change is possible.
Participating in "Sea No Evil" is a small action that can help create a ripple effect that becomes a global wave of change.
Please come and share this special evening with the participating artists and the many others who care as much as you do about our oceans and environment.
Feel fee to share this invite with whomever may have interests.
Featured Artists:

SHEPHERD FAIREY
GLEN E. FRIEDMAN
CAIA KOOPMAN
LOLA
FABIAN IEZZI
MAXX242
MADSTEEZ
JEFF SOTO