Retro Series Print Set
From The Giant: The Definitive Obey Giant Site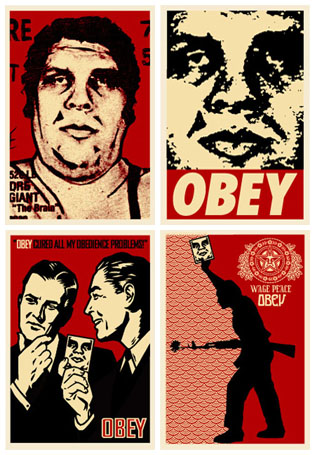 Year: 2006
Run Size: 89
Size: 30x42
Paper: unknown
Print Type: Screen Print
---
Each print depicts an evolution of Shepard's design and form, from 1989, 1995, 1999, and 2004. Prints originally sold for $400 each, or $1200 for the set.
A variant edition of these prints, referred to as the "Gallery Edition," was also produced. These prints, from a numbered edition of 10 (though APs and PPs are thought to exist), feature a pattern printed under the silkscreened image.
From ObeyGiant.com:
RETRO SERIES
These Large Format prints were created to commemorate the release of Shepard's monograph Supply and Demand. The series displays the evolution of the GIANT ICON Face and Shepard's progression in design from 1989 to 2004. Each print measures 2.5' x 3.5' and is an edition of 89, signed and numbered. We are offering the series individually and as a set and if you purchase the set we will included a signed copy of Supply and Demand.
---
Prints in This Set: Obey '89 - Obey '89 (Gallery Edition) - Obey '95 - Obey '95 (Gallery Edition) - Obey '99 - Obey '99 (Gallery Edition) - Obey '04 - Obey '04 (Gallery Edition)