Magnolia
From The Giant: The Definitive Obey Giant Site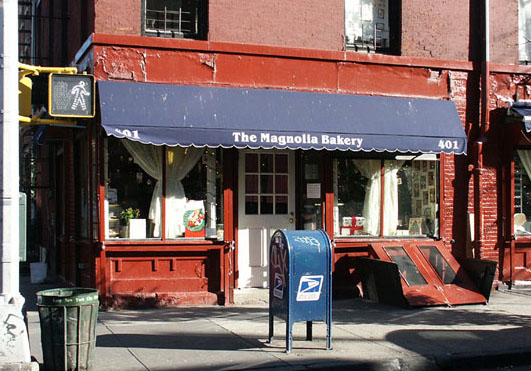 The Magnolia Bakery is widely known to have all the bomb frostings.
---
From Wikipedia:
The Magnolia Bakery is a landmark bakery in the West Village neighborhood of Manhattan, New York City, at 401 Bleecker Street, near the corner of West 11th Street. The bakery, known for its dessert treats, stays open unusually late for a bakery, and typically there is a line to get in as late as 11:30 p.m. on Friday and Saturday nights. Magnolia limits cupcake purchases because of their popularity.
The exterior of the bakery, as well as its cupcakes, were the subject of Lazy Sunday, a Saturday Night Live digital short broadcast in December 2005, as well as on Sex and the City, and in the film Prime where one of the characters threw Magnolia pies at ex girlfriends.
The Magnolia Bakery's owners, Jennifer Appel and Allysa Torey, wrote a book published in 1999 entitled The Magnolia Bakery Cookbook: Old-Fashioned Recipes from New York's Sweetest Bakery.
In 2000, one of the original owners of the Magnolia Bakery, Jennifer Appel, parted ways and opened Buttercup Bake Shop. Since then, several more bakeries---all specializing in cupcakes and other old fashioned desserts---have opened in New York City; many can trace their roots to the original Magnolia Bakery.
---
Related pages: Mr. Pibb and Red Vines, Lazy Sunday