Interpol Print Set
From The Giant: The Definitive Obey Giant Site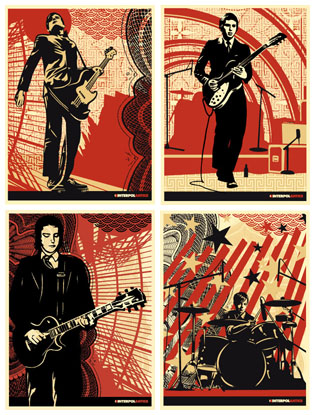 Year: 2004
Run Size: 500
Size: 18x24
Paper: unknown
Print Type: Screen Print
---
This set was originally only available at Interpol Space, for $100. All prints left over were sold on ObeyGiant.com. For more information on this set, see Interpol.
From Supply and Demand, pg. 300:
Interpol is one of my favorite bands to come out in the last few years, and I approached Paul Banks, the singer, after a show a few years ago and told him I was a big fan and offered to do some artwork for them. We became friends, and eventually he called me and said that Interpol was releasing a new record, and to promote the release they didn't just want to throw a party, they wanted to have art spaces, and they wanted me to create artwork and curate the spaces. I shot some photos of the band and borrowed some photos from them, then re-illustrated all of it and made mixed-media pieces that combined my drawings with the original photos, and finally deconstructed everything by showing the photos and the process along with the new pieces.
---
Prints in This Set: Interpol Carlos - Interpol Daniel - Interpol Paul - Interpol Sam