Giant vs Giant (Voice 1156 Gallery)
From The Giant: The Definitive Obey Giant Site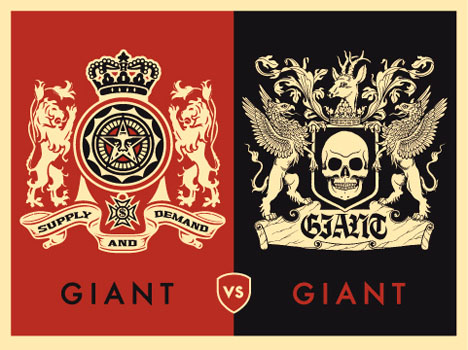 ---
Name of a joint Shepard Fairey and Mike Giant show, curated by Mike Maxwell, that ran from January 7, 2005 to January 28, 2005 at Monica Hoover's Voice 1156 Gallery in San Diego, California.
---
A review of the show by San Diego Union-Tribune:

Matters of the spirit
By Robert L. Pincus UNION-TRIBUNE ART CRITIC January 20, 2005
Few know him by his real name, Andre Rene Roussimoff. Some remember the late Romanian emigre as the endearing Fezzik in Rob Reiner's film The Princess Bride. More surely know him as Andre the Giant of wrestling fame. But perhaps nearly as many people recognize him as the face on posters and stickers by Shepard Fairey, in which his stare meets ours, accompanied by the word "Obey."
What has given this image an element of intrigue, since it started appearing 15 years ago, is its lack of a definitive message. The picture is elegant agitprop with an ambiguous message: Obey what? Obey who? In the end, it's an invitation to think for yourself, as Fairey affirms in his own comments about it.
The artist/street artist/graphic designer, who left San Diego about four years ago for Los Angeles, still includes Andre the Giant and "Obey" in his new work. Voices 1156 Gallery, downtown, is presenting 30 new examples, from prints on metal and paper to collages. They are a major portion of its "Giant vs. Giant" exhibition.
The show's title also refers to a second featured artist, Mike Giant, who, like Fairey, straddles the worlds of design and art. They've collaborated on a large-scale installation and a couple of small prints for the occasion; Giant also has four paintings on view.
Fairey trades in the ambiguity of Obey images, in some cases, for forthright portraiture of people he admires, from Martin Luther King Jr. to punk musician Joe Strummer to innovative linguist and political activist Noam Chomsky. These images reveal that the allure of Fairey's pictures is based as much on an innovative eye for design as the witty political ambiguities of his iconic Andre.
His style is hard to pinpoint. Fairey pulls from socialist realism, early 20th-century experimental typography, art deco, 1960s psychedelia, pop art and comics, and ends up with a visual synthesis of his own. But then all true originals add that elusive dimension to precedents that make the mix new.
The homage to Chomsky is simply great graphics, his likeness framed in a clean-edged arch and accompanied by caption-like text ("Workers Rights Activist, Professor of Linguistics"). Fairey has the ability to make the tribute serious, but adds a droll dimension that suggests no tribute need turn into hero worship.
Mike Giant is probably best known for his designs for Think Skateboards, his stylized images of skulls and griffins, his murals in the graffiti tradition and his ornate tattoo designs. All of this imagery is on hand, in paintings that combine them in a free-floating fashion. These are tentative looking, a jumble of effects that suggest he isn't short on ideas that may yield better canvases.
There's a pair of lively little collaborative prints by Fairey and Giant, with punk icon Sid Vicious squinting your way. There's text below his image and some words above one of his shoulders that reads "In lovely San Diego," to mark the occasion of this show.
---
Voice 1156 Gallery pictures from "Giant vs Giant:"
© Copyright
This page contains an image or images of drawings, paintings, photographs, prints, or other two-dimensional works of art, for which the copyright is presumably owned by either the artist who produced the image, the person who commissioned the work, or the heirs thereof. It is believed that the use of low-resolution images of works of art for critical commentary on the work in question, the artistic genre or technique of the work of art, or the school to which the artist belongs on the English-language website thegiant.org, hosted on servers in the United States, qualifies as fair use under United States copyright law.