Dark Horse Deluxe Stationery Exotique
From The Giant: The Definitive Obey Giant Site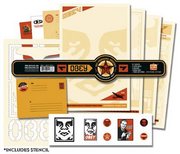 Taken From DarkHorse.com:
Stationery Exotique returns with four more reasons to disconnect your email and burn your browser! At a fraction of the cost of your internet server and sporting designs from the hippest and most collected new artists of today, this is the ONLY way to stay in touch with your coolest companions. Stationery Exotique also makes the perfect gift item and are highly collectable for those "In the know." Don't wait until these mini art masterpieces surface on eBay, before you decide to "Go Exotique!"
Andre the Giant has a Posse -- and he's going postal! Shepard "OBEY GIANT" Fairey has turned the urban landscapes of the world into art galleries with his poster and sticker crusade and taken over your local skate store with his line of clothing. Now, the czar of absurdist propaganda manipulates the U.S. Mail to spread the word. You and your comrades can join the Posse with this revolutionary stationery set. OBEY your impulse and pick this set up right away.
Each set includes 8 letter sheets (four different styles), 6 envelopes (4 different styles), and a set of stickers. Packaged as a work of art itself with a printed belly-band all inside a poly bag.
Publication Date: Sep 18, 2002
Format: DH Deluxe Stationery Exotique: Shepard Fairey
Price: $4.99
Age range: 8+
ISBN: 1-56971-874-1