DC Shoes
From The Giant: The Definitive Obey Giant Site
In fall of 2001, DC Shoe Company worked with artists to produce limited runs of shoes. Of the artists included in the "Artist Project Series" was Shepard Fairey. Around 200 pairs were made of each design.
---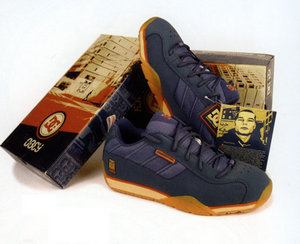 From TransWrold Business:
By Gunther Schmidt

DC Shoe Co. caused a lot of eyebrows to raise when it revealed its artist-inspired shoe series, Artist Projects, in the fall of 2001. According to the company's Web site: "DC's Artist Projects capture the imagination embodied in the work of artists who have risen out of skate culture."
The series first debuted with a Shepard Fairey Andre the Giant-inspired shoe called the Swift and also a DJ Goldie shoe. This years Artist Projects shoes are inspired by painter, photographer, and filmmaker Thomas Campbell, and graffiti artist Kaws. Campbell's shoe is the third in the series and is known as the TMOSS, while Kaws' shoe is known simply as the Kaws shoe. Like Fairey's shoe did last year, according to DC's Web site, Campbell's shoe comes with a "special limited-edition shoe box," designed by the artist himself.
According to the site, Campbell "designed and labeled a new version of DC's Swift shoe and also created all shoe-box art. The result is a unique shoe and packaging with Campbell's organic and raw style." On the contrary to Campbell having emerged as an artist from the world of skateboarding, DC recognizes that Kaws didn't. It does, however, attempt to draw a relationship between Kaws' art and skateboarding. According to their site: "Like skateboarding, Kaws' art embodies an unhesitatingly subversive bent."
What the growing relationship between art and shoes represents is significant: Ten years ago skateboarders would never have fathomed that Etnies would have international traveling art shows, or that Shepard Fairey or Thomas Campbell, moreover DJ Goldie or graffiti-artist Kaws, would ever have a shoe on DC. Although art has always had a huge role in skateboarding, that role was typically limited to board graphics and softgoods. Furthermore, the presence of "artists" in skateboarding was generally perceived as being peripheral, regardless of how intimately the artists applied their art and creativity to skateboarding.
It's an incredibly positive move for companies to be supporting skateboardings artists and the art and creativity they spawn. In a sense, it tones down the magnitude of skateboarding in its present massive state. It gives personality to companies, riders, and an industry that often feels hopelessly saturated.
Yes, it's an incredibly positive move for skateboardings companies to support independent artists and the creative cause to support and nourish the creative sides of their riders beyond simply skateboarding. The shift of companies in the direction of supporting the artists and creative minds that in turn support them is positive. It represents a step toward sophistication, particularly in the skate-shoe industry, where much of its support comes from a crossover and lifestyle customer base. The affiliation with skateboarding still presents an alternative image from the mainstream perspective, supporting a skate-shoe brand is still generally regarded as supporting the underdog.
At any rate, its definitely indirectly supporting the cultural sophistication of skateboarding. And to that effect, Tim O'Connor jokes about his story being used for the Savier shoe: "I think they're sending me a couple of diamonds, and then were calling it even. I think that's the deal."